GoDaddy WebMail is Not Working? Here Are the Top 5 Related Issues and Its Solutions
Highlights:
---
GoDaddy webmail issues can be divided into several categories and thus one solution won't fit all.
Always add GoDaddy to "Approved Sites" on your browser to avoid issues.
Your browser's health is important for the seamless functioning of your GoDaddy webmail account. 
Companies with more than 5 employees should take the most care of their professional email accounts.
GoDaddy webmail is thriving in a dramatic manner with the spike in the number of business startups. For every business, having a professional email is a compulsion if they want to stay ahead in the competition. But with the sharp rise in the database of GoDaddy users, the number of issues being encountered has also increased.
From sign-in issues, error codes, to issues in sending and receiving emails, there is a huge range of problems that affect user experience with GoDaddy webmail. Here is the guide that walks you through the problems, their solutions, and everything else that is required to maintain a smooth workflow on your GoDaddy webmail account.
Let's not talk more and begin the quest!
Issue 1: GoDaddy email login issues
The most inevitable sort of issue is GoDaddy webmail login problems that can lead to disastrous repercussions if not addressed immediately. The basic troubleshooting of login errors begins with recovering email credentials such as username and password.
Solution 1: Recover GoDaddy username
When you are not able to access your GoDaddy webmail account, even when you are entering the correct password, the only thing left is checking the authenticity of the username. You must recover your username if the credential you are entering is not matching with your account. Here is how you can GoDaddy username in one go:
Step 2: You need to provide the alternative email address that is related to your account and click Continue.
Step 3: After that, type in your GoDaddy domain name using the Domain URL in the respective text field. You can simply type the domain that is associated with your account such as xyzexmaole.com. At last click on Filter to receive the One Time Password (OTP) on your email account.
Step 4: On the next screen, enter the Verification Code that you have received on the email address and click Continue. Your username and customer number will be displayed on your screen.
Solution 2:Reset GoDaddy Email Password
If you remember your username but have forgotten your password, you can try resetting your password using the below-given steps:
Step 2: Enter Username or your Customer Number #.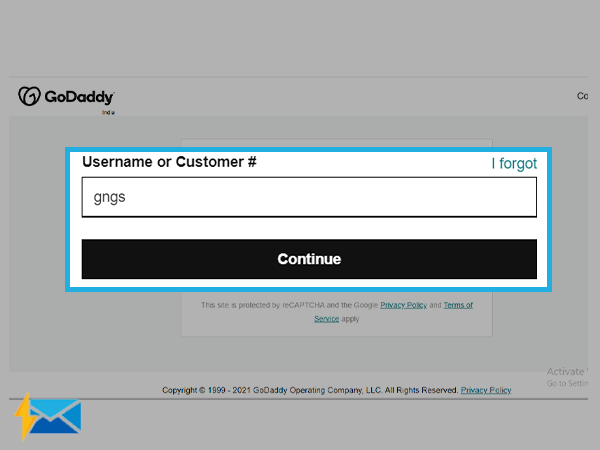 Step 3: You then need to go through a security Challenge and hit the Submit button.
Step 4: You will then receive an email that will contain a password reset link on your registered email address.
Solution 3: Fix Two-Step Verification Issues
Issues with Two-Step Verification can cause a non-functional GoDaddy email account. Hence, if you have enabled two-step verification on your account, but encounter issues in receiving codes, you need to fix the problem immediately. There are different problems that need different solutions, check the table for them.
| | |
| --- | --- |
| Issue | Fix |
| Inability to receive the codes on a mobile device | Make sure the carrier is not blocked. |
| An error stating "To protect your account, we locked this verification method for 24 hours due to too many code requests." | When you request multiple 2SV codes, your account is likely to get blocked for 12-24 hours. Henceforth, if your account is locked, wait for at least 24 hours. Alternatively, you can cancel the two-step verification if you no longer use the devices for receiving the codes. Just click on "I don't have access to that device." |
| The phone number is based in India or any other country and you now live in different countries, thus no longer receiving codes. | There can be problems with your message service provider called Twilio. So, keep track if Twilio can't reach you |
| Your current device is not compatible with the 2SV verification. Reasons could be anything from lost devices, changed phone numbers, and more. | You can try removing the two-step verification, your just use the guidelines from the "I don't have access to that device" section |
| If 2SV is not working and you want to remove it, but you are unable to cancel it without signing in to 2SV | Delete the two-step verification, use the instructions for "I don't have access to that device." |
Solution 4: Use Authentic Webpage to Sign-In
GoDaddy offers one dedicated website to access all its features and services. But there are many unauthentic sites that have taken over the realm of the internet to mislead users. Hence, make sure you are using the correct Godaddy website to log in. The right domain to access your account is:
https://godaddy.com/login?app=email&realm=pass
Steer clear of third-party websites to access your GoDaddy webmail account as such websites can affect the security of your account and make it prone to cyber threats.
Issue 2: GoDaddy Email Sending and Receiving Problems
Inability to send or receive emails while using a GoDaddy account can be a cumbersome situation as it impacts the daily flow of emails. Therefore, one must keep a check on these issues to stay in the game and not lose the email sending and receiving capabilities.
To make you aware, GoDaddy has an integrated mail system named secureserver.net, that maintains the smooth surge of emails. But being a sensitive server, it is prone to various cyber threats and has always been on the target of hackers. And thus, this server faces more outages and downtime than its counterparts. You are more likely to encounter junk overflow over the secureserver.net and hence users must know how to deal with errors that can occur due to server downtime; sending and receiving issues are the most prominent issues that are concerned with server issues. But there is always glass half full, and thus we can't overlook the nominal pricing of GoDaddy webmail services.
Being that said, if you want to continue with your GoDaddy email service for establishing a professional platform for your business or brand, you must empower yourself with the ways to deal with GoDaddy webmail errors.
Try these solutions when you are unable to send or receive GoDaddy emails
Solution 1: Fix the Security Software Settings
To begin with, when GoDaddy webmail is not allowing you to send or receive messages, make sure you check any interference from a security program. GoDaddy workspace is likely to get affected by programs like firewall, ad-blocker browser security tool, pop-up blocker, and more, as they can crash with email platforms like GoDaddy. Thus, it is suggested to disable such programs whenever you come across GoDaddy webmail issues.
Solution 2: Don't Forget to Add GoDaddy to Approved Sites
Adding GoDaddy webmail to approved sites will make it look secure to your browser, and it will not prevent you from using services powered by GoDaddy. For every browser, the way to manage the list of approved sites varies, thus here are the steps that will work for commonly used browsers, namely Chrome, Firefox, and Internet Explorer.
Using Internet Explorer 7, 8 & 9:
Go to "Tools > Internet Options > Security".
Now, click on the "Trusted Sites" icon, then go to "Sites".
Copy and paste the URL "http://email.godaddy.com" and tap on "Add".
Select "Close" to finish.
Using Google Chrome:
Click on the three horizontal-lines icons from the right corner of, at the top of your screen, the Address bar.
Click on "Settings" and scroll to access the "Show Advanced Settings" link.
Choose "Change proxy settings".
Now, click "Security tab >> Trusted Sites icon>>Sites".
Provide the URL http://email.godaddy.com and then click on Add.
Tap on Close and then OK to complete the process.
Using Firefox:
Open your Firefox homepage menu, and go to Tools >> Options
From the "Content" menu, select "add Exceptions".
Enter the URL http://email.godaddy.com, to enter it into the trusted site.
Click on "Close" and then OK
Solution 3: Enable SSL Mode
Once you have added the GoDaddy workspace to the approved sites, it's time to set it up for the SSL mode. For this, just follow the steps given here, below:
Access the GoDaddy webmail Classic View, and go to Settings.
Click on Personal Settings.
From the Security Options, select Use Full-Time SSL Mode, Click OK.
Solution 4: Remove Browser Cache
When you are done with all the above-mentioned methods, you can log out from your GoDaddy webmail account and then clean your browser. To clean out your browser, make sure you delete all cookies, cache, and history from your browser. Nevertheless, it will clear all your stored passwords and other autofill data.
GoDaddy has explained the ways you can use to check how you can remove the stored data from your browser, click on the name of the browser you generally use to access your GoDaddy webmail account.
Issue 3: Outgoing Emails are Marked as Spam
If all your outgoing emails are getting marked as spam, you need to fix it immediately as it affects your goodwill among your contacts. To get it straight, let's say "Your GoDaddy messages are marked as spam because you are not being recognized as a valid sender due to the past reputation of your email server. Your email address is suspected of sending spam and thus every email is marked as spam when it lands into the recipient's inbox."
What are the Reasons???
With the growth of spam and virus, ISPs have started taking strict measures to control the emails that contain spam-like format. There are two business-class setups and email authentications, namely "DKIM" & "SPF" that help you prove the legitimacy of your email as well as a mail server. Both servers work as the fingerprint of your email and help ISP to understand the authenticity of your emails.
Solution 1: Employ DKIM & SPF Records
Therefore, make sure you employ DKIM & SPF records on all email servers, including the GoDaddy webmail service. Also, not setting them properly can make you look spam, so take an extra step to check the configuration.
You can directly contact your ISP (Internet Service Provider) to configure these authentications. Alternatively, you can add an SPF record to your GoDaddy domain.
Solution 2: Add SPF to GoDaddy Webmail
In Continuation to solution 1, the Sender Policy Framework, aka SPF, is originally a TXT record that lies in your DNS zone file. The SPF setup detects whether the email you are sending is authentic or spam, and prevents the ISP from marking your outgoing emails as Spam. To set up SPF on GoDaddy, check the steps listed below:
Start by logging in to your GoDaddy Domain Control Center.
Now, select your domain and then access the Domain Settings page.
From the Additional Settings menu, choose Manage DNS.
Select "Add" from the records table.
Access the "Type" menu, and select TXT.
Enter the important details for your SPF record:

Host: It is the domain or subdomain related to your SPF record. For adding the record on the root domain, enter"@" in the Host section.
TXT Value: This is the main SPF rule to apply. To exemplify, enter v=spf1 mx -all for all the "Indicate emails" that you want to allow from your mail server and not to others. To know more about this, go to SPF record syntax.
TTL: It stands for the time limit for which you want your server to collect the cache information. The default setting starts from 1 hour, but you can change it anytime.
Tap on "Save" to apply the new SPF record.
Important Notes:
It is advised to choose 48 hours to make the changes effective throughout the globe.
Do not add more than 512 characters with only UTF-8 characters.
You have a free hand to make edits to SPF later.
It is possible to create a template to assign DNS records immediately.
Issue 4: Clean and Control Junk in GoDaddy Email
When you have a lot of junk collected in your GoDaddy webmail, managing the important emails becomes difficult. Thus, it is advised to take important security measures to control and prevent spam, some of them are listed here. We must comprehend the ways through which spammers can manifest their ill intentions.
Solution 1: Check for GoDaddy webmail in Clear Text Format
Check if someone has posted your GoDaddy webmail in clear text format or in the unencrypted form, your email account is likely to get bombarded with spam emails. To check if this is the case, search your email address using the Google search bar. If you find a search result with your email address written in clear text, and you are unaware of it, it might be the cause of excessive incoming spam.
Solution 2: Fix Issues with Contact Form
If you have set a contact form on your website to spike the user interaction, the spammers are likely to take advantage of it. They will use the same form to send you spam in bulk. Therefore, make sure you safeguard your contact form with advanced technologies and update it from time to time.
Solution 3: Avoid Registering to Less-Secure Platforms
If you have used your website's email to sign-up for less-secure web platforms, you are likely to fall into the trap of cyber junks. As such sites sell their customer base in exchange for money and unethical entities use emails to send junk or spam emails. Therefore, one must avoid using a professional email address to fill out the register for online platforms.
Additional Tips to Prevent Spam on Your GoDaddy Webmail:
GoDaddy is known to provide website domains at dirt-cheap prices, and thus sometimes a little compromise with security is justified. However, if you take some extra precautions, you can make your website and domain safer. Talking about spam, it can act as a dreadful disease for your business, and hence, make sure you follow all the security measures listed below.
Create Spam Filters
Log in to the Workspace Webmail.
From the Settings menu, go to Spam Settings.
Access the Spam filtering section, and choose one option from the menu:
Turn off filtering — To make No action on suspected spam emails. All such emails will be saved in your Inbox.
Move to Bulk Mail — (recommended) This will move all the Suspected spam emails to the Bulk Mail folder. These emails can be accessed anytime later.
Mark subject with [SPAM] — Suspected spam emails will be directed to your Inbox with [SPAM] with the related subject line.
Restricted mode — This will only move suspected emails to the Bulk Mail folder when the sender belongs to the "Allowed List".
Then, go to the "When I mark messages as spam" section, choose one option from many:
Ask me what to do — By enabling this setting, you can prompt Workspace webmail to ask for your permission that all messages from a particular sender will be saved under Bulk Mail Folder or just a few selected ones.
Mark all messages from one sender: All messages from one particular sender will be marked as spam and saved to the Bulk Mail folder.
Mark only selected messages — Choosing this will send a few selected emails to the Bulk Mail folder.
Tap on the OK button to apply spam filters.
Mark Spam Emails
GoDaddy allows you to mark emails as spam and move them from the Inbox folder. This setting will come into action along with the spam filters.
Here are steps to Mark Email as Spam
Log in to your Workspace Webmail.
Mark the emails look like spam to you.
Select the "More Actions" menu and select "This is Spam".
Choose Apply.
Set up Auto-purge Email Address
Email purging is the process of clearing the spam from your GoDaddy webmail account. This feature is mainly designed for those who are currently dealing with excessive spam and now want to clear some space and re-attain the optimum health of a webmail account.
Follow these steps to Set Up Auto Purge
Start by logging in to your Workspace Webmail.
Go to the Bulk Mail folder, and choose all emails you want to purge.
Click on the Auto Purge option.
You have two options; purge all emails by sender or purge by domain. Select one of them and then click on OK.
Cautious: You cannot recover the emails that you have deleted using the auto-purged feature.
Block Spam Users
You can then block email addresses or domains that you find sending spam in a repeated fashion, this is one of the finest ways to control excessive spam in the workspace webmail inbox.
To block senders
Log in to Workspace Webmail.
Access the Settings menu, and go to Message Filters.
Go to the "Blocked List" option.
Select "Add new" and then OK.
Now, the selected emails or domains will be saved under "Blocked List" and all the emails coming from that particular sender will be treated as spam and won't be saved in the Inbox.
Issue 5: GoDaddy Email Is Not Working With Outlook
Another problem that is currently taking the internet by storm, is the GoDaddy webmail is not working with Outlook, mainly when you have Microsoft Outlook 365 installed on your device. So here are some issues that might help you fix the GoDaddy email problems on Outlook.
Solution 1: Check the Internet Connection for Workspace Mail
It is quite understood that a web service like GoDaddy needs a sufficient amount of network speed to work. Therefore, make sure that you have an internet connection that is strong, secure, and stable.
Solution 2: Check Login Credentials
GoDaddy's webmail account can not be accessed without the right login credentials. Therefore, one must check for the login details they are entering to ignore issues with MS Outlook and GoDaddy collaboration. If you have forgotten your email username or password, you can anytime recover it using the methods that we listed above in this article.
Solution 3: Check GoDaddy Server Settings
Not having the right server settings configured can create several issues while using a GoDaddy email account with Outlook. Hence, make sure you check that you have entered the right details in the server ports of incoming and outgoing server names (Hostname).
Solution 4: Manage SMTP Port Settings
The next thing that can make a difference is the SMTP port settings. Therefore, make sure you check SMTP port settings. here are the steps that will help:
Step 1: Access the 'Microsoft Outlook application on your respective PC.
Step 2: Now, go to the 'File' option on the taskbar.
Step 3: After that, you will see a menu from where you need to select the 'Account Settings' option.
Step 4: Choose your GoDaddy's 'Account' and tap on the 'Change' button.
Step 5: Click on 'More Settings' followed by selecting the 'Advanced' tab.
Step 6: From there, change the 'Outgoing Server Port Number' to "465."
Step 7: Next, make sure to change 'Encrypted Connection' to "SSL."
Step 8: To complete, tap on the 'OK' button and then the 'Next' button.
[Optional] Step 9: Once you are done changing the SMTP port number to 465 but it is not working for you then, try changing the port number to "25."
That's all! This piece of information ends here. Hope it has aided you with GoDaddy webmail issues.
Share