How to login to GoDaddy Webmail account?
GoDaddy is a renowned domain registrar that has become the talk of the town among the people who are anyhow related to the thriving digital world. The company was introduced in the year 1999 to offer hosting and business emails to people who want to go digitized. It offers you complete control over your website so that you can mark your presence on the internet.
Tip- If you manage a website, you can try the services of DoMyWriting to get your articles written by professionals.
Not only domain and hosting, but GoDaddy also provides webmail services for professional as well as personal use and it is offered under the eminent platform of Microsoft.
For signing-in to GoDaddy, you need to have access to the main website of the brand. If you want to login to the GoDaddy products, there is only one main page that can be used for all products. Not only the domain management or hosting, but the email services of GoDaddy can also be signed-in using the same steps given below.
Have a look at the steps that you need to follow for signing-in to GoDaddy main site:
From your browser, go to https://www.godaddy.com/
Now, from the top-right corner of the screen, click on "sign-in"
Now, select "Sign-In" under the "registered user" menu. However, if you want to register a new account, you can click on "create a new account".
Now, type-in "username or Customer ID" and "Password" for your GoDaddy email account.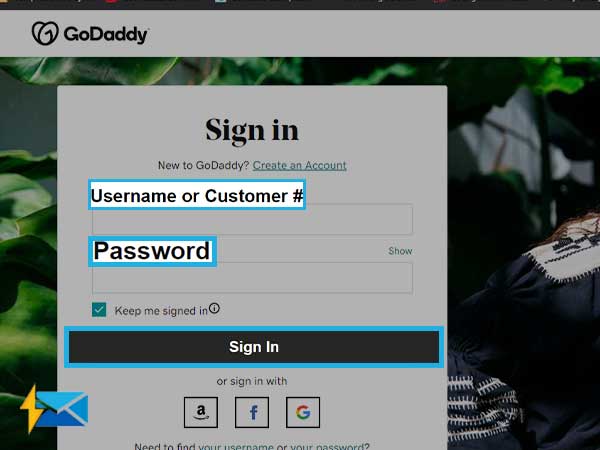 You can even use the "Facebook" or "Google" account to sign-in to your GoDaddy email account.
Reset GoDaddy Email Password
If you are not able to sign-in to GoDaddy email account due to a lost or forgotten email account, you can retrieve it using the steps given below:
Go to the GoDaddy password reset page, by clicking on https://sso.godaddy.com/account/reset?action=submit&app=www&realm=idp
Type In Your "Username and customer number"
Select the recovery email address associated with your GoDaddy email account to receive the password reset link.
Using the Reset link, you can easily create a new password for your email account.
You can even call the GoDaddy customer care number by dialing 480-505-8877 to recover your password. But make sure you are ready with all the information they will require to offer you access to your account.
GoDaddy Workspace Email Login
GoDaddy offers workspace email login to its users. This is not the free email service platform but it comes with the package when the customer buys a domain. For creating an email address, you will need to have MX records directed at GoDaddy.
This way you would be able to login to GoDaddy's workspace email account and use the company's interface. 
It is best for those who are using a slower hosting platform and can't use their normal email account offered by their host for their crucial work.
To login to GoDaddy workspace webmail, go to https://sso.secureserver.net/?app=email&realm=pass&
You will need to type the email address that you have created for your domain. Make sure you are not using the email address that you have used to sign-in to GoDaddy's website.
But when you lose your password for Workspace email, GoDaddy prompts you to follow a series of steps and the process can take around half an hour or so. And only after 30 minutes, your new password will come into the effect.
The steps to reset the password are as follow:
Access your account manager as we did before.
In the account manager, click "products" and then go to "workspace email"
Now, select your account that you need to change the password for and click Edit.
Type in your new password and re-enter it to confirm.
MS Office 365 Login with GoDaddy
GoDaddy has recently collaborated with MS Outlook 365. You can easily log in to the merged platform using the steps listed below:
Go to https://sso.godaddy.com/?ci=&app=o365&realm=pass using your favorite browsers.
From there you can easily log in to Microsoft Office 365 email. For resetting the password, you can access https://sso.godaddy.com/account/reset?ci=&realm=pass&app=o365

Follow the on-screen instructions to retrieve your workspace password.
Share