Share WhatsApp Chat from iPhone to Android
---
There may come a need in a person's life when he has to change or replace his phone with any other device because of various reasons. At this stage, the first thing that comes to the mind of a person is the data on his phone. He must think of a way to transfer all data to his new phone.
Most people use WhatsApp for business purposes or to connect with friends and family. So, they don't want to lose their important WhatsApp messages. And the majority of users are unaware of the methods that they can use to transfer WhatsApp chat from one phone to another.
If you are switching from iPhone to Android or you simply want to use WhatsApp on your Android phone then you may want it to transfer your important WhatsApp chat.
Just so you know, you can easily transfer chats, contacts, pictures, and videos of WhatsApp from iPhone to android. We have described effective ways below that you can use to transfer WhatsApp chat from iPhone to android.
The Motive of Transferring WhatsApp Chat
It's a fact that anything that happens in our lives must have a strong reason. Similarly, if a person decides to transfer his chat from iPhone to android, then there will surely be a solid motive behind this transfer.
Most people use WhatsApp for their business marketing or to connect with customers. So, every chat with a customer is important and needs to be recorded to get the record of business sales. Besides business, chats with friends and family are also important and memorable and need to be kept and transferred.
A person may have to transfer his WhatsApp chat due to reasons that are mentioned below:
His cell phone starts hanging or stops working then he has to change his device and transfer the data from the previous phone to a new device.
He may want something new in his life so he decides to buy a new cell phone hence it becomes necessary to transfer WhatsApp data from one device to another.
He has to send something to his friend or any family member then he needs a way to transfer WhatsApp chat from one device to another.
He may have to share some data of presentation with his colleagues then he has to transfer WhatsApp chat.
Ways of Transferring WhatsApp Chat
When a person changes his phone then the first thing that he has to make sure of is the removal of all his data from the Phone. He may delete the data that is no more useful for him and transfer the important one.
But when it comes to the WhatsApp chat then he must be panicked because his important chat will be lost permanently. At this stage, he must search for some ways that he can follow to transfer his WhatsApp chats from the old phone to the new one.
Can the Backup Method Work to Transfer WhatsApp Chat from iPhone to Android?
For the ease of users, WhatsApp has a backup feature that enables users to easily transfer their WhatsApp data from one device to another. You have to just create the backup of your media and chat and then on the other device, you can get back all of your WhatsApp chats easily.
But the backup method only works when you are transferring data between the devices having the same operating systems. For instance, you can easily transfer your WhatsApp chats from Android to Android by using the backup created on Google Drive, or by using the iCloud backup you can easily transfer your WhatsApp chat between two iOS devices.
You cannot use the backup method to transfer the WhatsApp data and texts from iPhone and Android as both devices have different operating systems and they are not able to share the backup that is created on other operating systems.
By Using the "Export Chat" Feature
WhatsApp has an export chat inbuilt feature that permits the users to export specific chats This method can be used to transfer important WhatsApp chats from iPhone to Android. You can use different sharing means to export the WhatsApp chat but by using the email service you can mail the chat to the Android email address.
Following are the steps that can be used to export chat by using an email service:
Step 1. The first step that we have to follow to export WhatsApp chat is to open WhatsApp and go to the chat on your iPhone that you want to export.
Step 2. Tap on the Contact name of the person and from the menu choose the "Export chat" option.
Step 3. WhatsApp will ask you if you want to attach media to the chat or not. Choose the option whether you want to transfer media as well or not.
Step 4. On the next screen, you have to choose the sharing medium. Tap on the Mail option. Enter the recipient's email address and send the mail.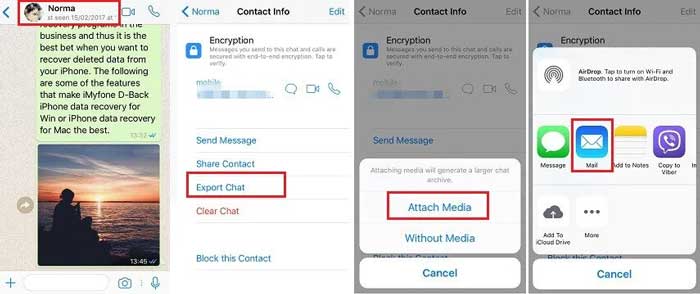 After following the above steps the chat will be exported through the mail to the Android phone. On your Android phone open the mailbox and now you can access the specific chat that you have exported.
Pros and Cons of Exporting WhatsApp Chats
Emailing the exported chat file is a straightforward process but it has some drawbacks that limit its use. Some of the drawbacks of this method are given below:
You cannot export all of your WhatsApp chats or selected chats at once. As WhatsApp only allows to export chats one by one so the process may take a lot of time.
The chat will be exported in the form of a "txt file" so you cannot get your important chats on the WhatsApp interface.
By using this method, you can transfer limited-size WhatsApp chats to your Android phone.
Other Methods
You can use other options to transfer your important WhatsApp chat from iPhone to Android depending upon the purpose you need it. For instance, if you just want to get the record of your WhatsApp chats then you can simply take screenshots of the important messages and then send them by using Bluetooth or any external removable device.
But if the text messages themselves contain important words, then you can copy the WhatsApp message and paste it into a Word file that you can share easily. There are many third-party tools available that permit the user to easily transfer all of their WhatsApp data along with chat from iPhone to Android phones.
Sum and Substance:
If a person is having difficulties while transferring his chat on WhatsApp from iPhone to android then he can consider the above-mentioned ways to easily share all his important WhatsApp messages.
There are still a majority of users who think it is impossible to share WhatsApp chat from one device to another. But due to the enhancement of technology, there is a possible solution for almost every problem. Similarly, we can also transfer all WhatsApp chats from iPhone to android devices.
Share